ROC LONG PANTS AND ROC SHORTS ARE NOW AVAILABLE!
2022-04-27
What pants are the best for enduro and freeride? Is it already time for shorts, or maybe the weather is still too unpredictable and it is better to choose the longer version. A daily challenge that begs the question. What should I wear? The first question while choosing pants is the brand and here we know the answer ;) After answering this question, we can return to consider the issue of pants length. Well, there is no clear answer, because it depends on your preferences. Allow us to present two of our products for enduro and bikepark laps lovers. ROC LONG pants and ROC shorts.
As you've probably heard many times, there's no such thing as bad weather, just bad clothing… For this reason, both our pants and shorts are treated with an eco-friendly DWR coating, free of environmentally harmful PFCs, which do not absorb water and provide breathability on warmer days.
The next common features are the quality of workmanship and attention to details. Both products are made of fabric that uses a special combination of nylon and polyester fibers. It ensures high durability and prevents from damage. The hallmark of ROCDAY is the attention to detail and solutions developed on bikes. This is why all our pants and shorts feature such clever solutions as an adjustable waist strap. Thanks to the increased Velcro surface, you can be sure that the pants will always stay in one place and the huge pockets can be filled with candy bars, tools, and whatever else you want. Speaking of pockets, it is worth mentioning that they are profiled in such a way that their content will always stay in one place. The icing on the cake is a hook for hanging the pants after a great day on the bike.
Pants ROC LONG is our new product, which has already gained a lot of fans. The stylishly extended leg will not only attract the attention of ladies but also ensure that you can fit your protectors underneath. Additionally, the tapered elastic profile will effectively protect our pants from a love affair with the sprocket. Home of these pants are steep enduro trails and riding at bikeparks. Thanks to their water-repellent properties, they will perform well in wet conditions. In combination with an additional base layer even in winter.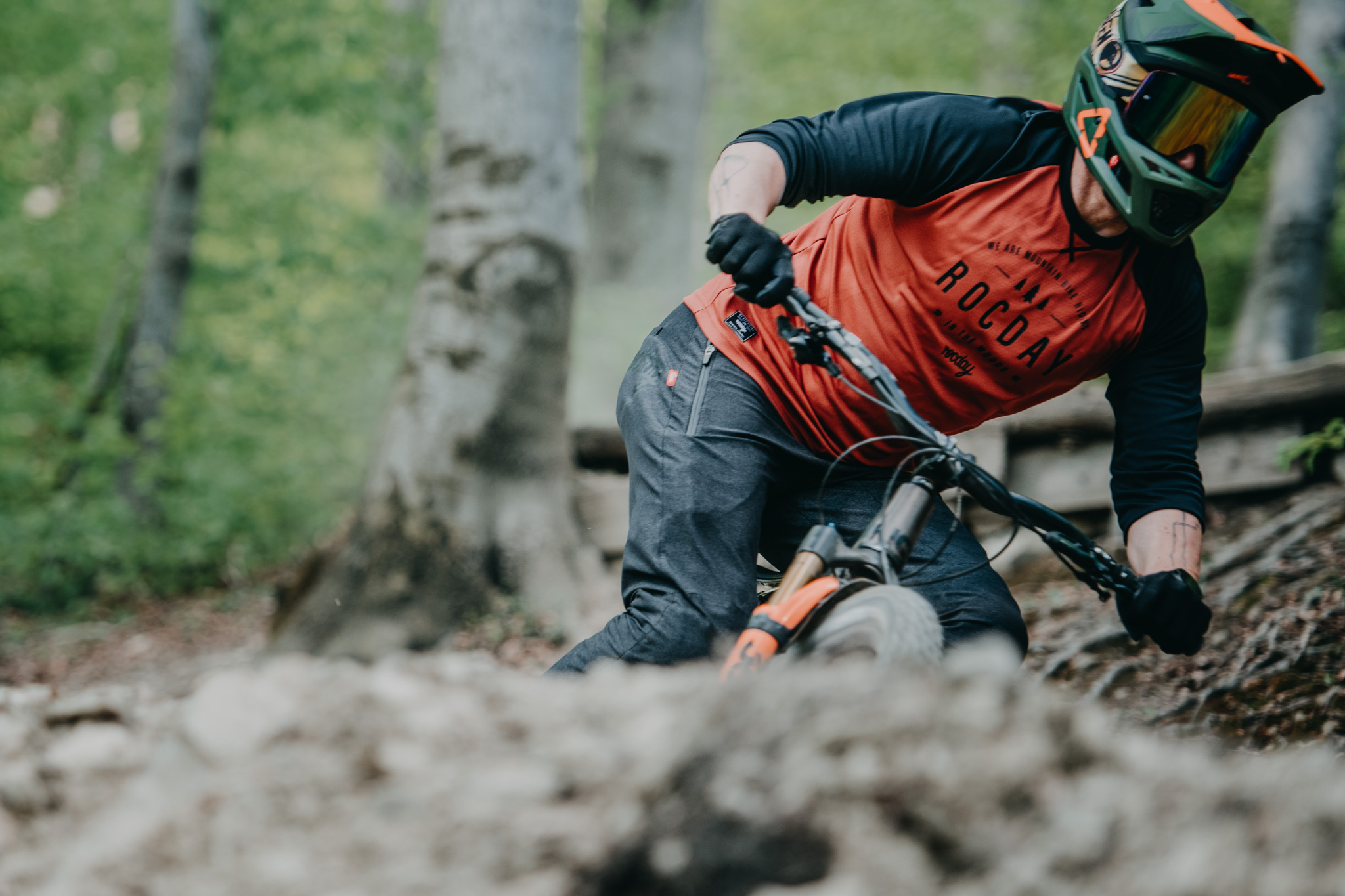 ROC shorts have been with us almost from the beginning. A classic and very durable product that is perfect for warmer days. Thanks to the extended leg profile, they can be used with or without protectors. Adjustable leg bottom will ensure proper comfort and convenience depending on your needs. Shredding hard at the bikepark? No problem, adjust your leg profile to fit your knee pads. Autumn trail maintenance? Go ahead, wrap tighter around the leg on cooler days. 
All in all, both the pants and shorts are perfect for enduro and bikepark riding. They have similar technological solutions. The choice is individual depending on whether you are team long pants or team shorts.